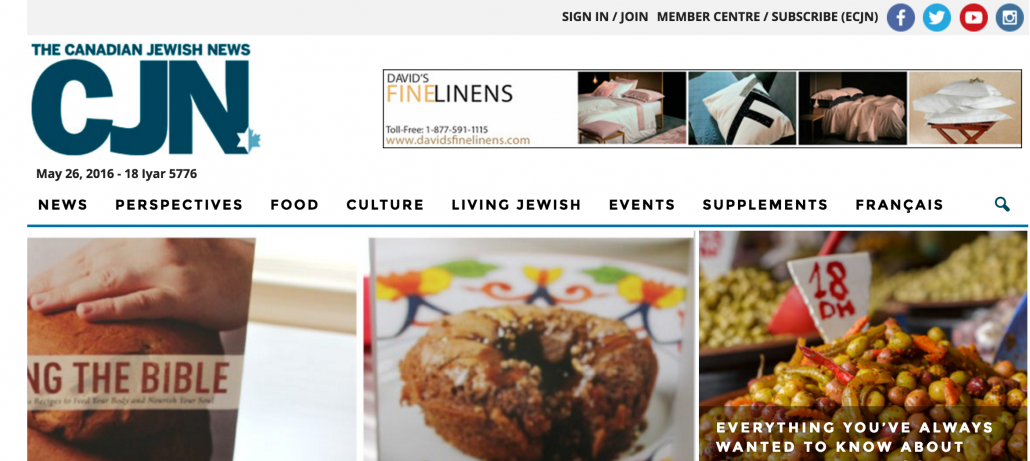 The Canadian Jewish News is the leading voice for Canada's Jewish community with a strong print subscription community but had an outdated website. Recognizing the future is not in print media, the CJN leadership sought help from Analytical Engine Interactive to re-imagine their digital presence and business model.
CJN's core problems
The CJN had two main problems that were tactical and strategic.
Tactical: The site was not delivering an engaging user experience, the backend was complicated, the design did not keep pace with their competitors, and the site did not monetize their content effectively.
Strategic: Print media is in decline and the ad revenue from CJN's online content is not enough to support their content-delivery business. The CJN's print readership – and core subscription revenue stream – skews elderly, creating uncertainty about the future.
Our process
To understand all the dimensions of CJN's issues and opportunities, we:
Interviewed board and staff members,
Ran a workshop with senior leaders to understand – through a card sorting exercise – the CJN's identity,
Analyzed their content and analytics,
Conducted a competitive analysis to see how print media organizations had transformed their business model in the digital space and to see how CJN's competitors operated online,
Created profiles of four types of users, and
Ran usability testing of the old site with CJN readers to identify specific navigation and information architecture issues.
We did not develop the site.
Our solution
Communicated through a communications brief, a final report, wireframes and business and technical requirements, we recommended the CJN build a news website to deliver content through a personalized user experience and expand their business model from strictly content delivery to providing utility.
Personalized user experience
To align with trends in mobile consumption and digital content delivery, CJN had to transition to a user platform that prioritizes their reader's content interests rather than only serving up articles. We wanted them to use personalization to drive relevance among the CJN's readers and create a user experience that is unique, tailor-fitted, and deeply personal. Not only will this fulfill the CJN's community-building role, but also remain relevant in an increasingly saturated digital content market.
To understand personalization for users, we needed to understand their readers/users.
Using insights from user interviews, we found four types of CJN audiences and what issues or content would matter to them. While the community cannot be distilled into these four archetypes, it offers a decent sampling of the audience the CJN must think of when writing news articles and providing utility. As well, these users will help determine the appropriate visual design to ensure the site aligns with the identities of its users.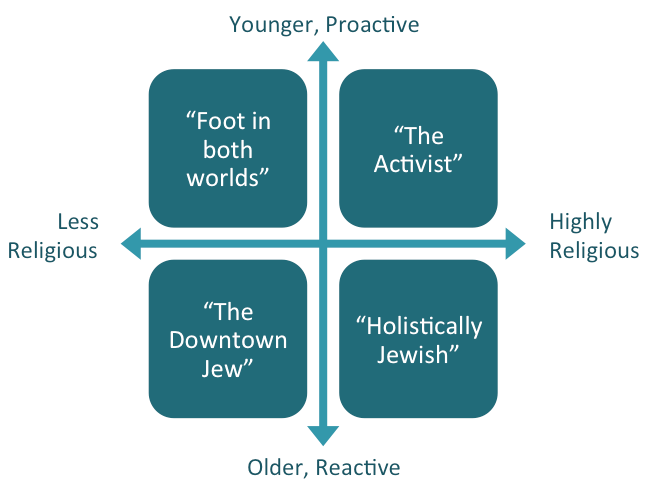 Foot in both worlds user is digitally savvy and identifies with being Jewish but isn't too attached to the idea or essence of being a Jew.
The activist user is the youngest user, gets most of her news online and from social networks, and a strong advocate for Jewish issues, who and seeks out opportunities to engage Jews in dialogue and debate.
The downtown Jew identifies as Jewish but isn't too attached to being Jewish. They are is in their 40s or 50s, enjoys attending events of interest to the Jewish community, and tends to have a fairly liberal perspective in life (and politics). They get news about the community both in print and digital formats.
The holistic Jew considers being Jewish the source and summit of their identity. A deeply devout elderly Jew, they are someone who unfailingly observes the Jewish calendar, is emotionally invested in their community, and holds profoundly conservative views. They get their news primarily from television or radio but can also go online when needed.
Providing utility
To adapt to the changing media and advertising landscape, CJN had to transition from a content-delivery service to a platform that provides a unique utility to engage users and increases revenue generation.
The newspaper industry is now generating profits equivalent to what it made in the 1950s — $20 billion USD annually down from $60 billion only a decade ago. Though Canadian Jewish News was late to the transformation, it is not that far behind the ethnic and community newspaper industry.
An upside of the delay in transforming is the wealth of alternative revenue generating models tested by other media organizations.
Alternative models
As the quest to return to profitability has forced traditional organizations to re-invent their business, the democratization of publishing technology has enabled digital up-starts to rise up using new business models, resulting in a plethora of new revenue-generating models.
The new digital models to reinvent the content-delivery business we analyzed include:
Full or partial pay walls for content
Selling goods and services to an educated, affluent, and politically active subset of the population, such as the products you review, industry analysis, digital marketing services, classes and events
Creating multiple digital products to maximize revenue
Sponsored content, including column, post or feature produced externally or internally
Crowd funding public-service journalism
Becoming a non-profit society to solicit donations
Results
The n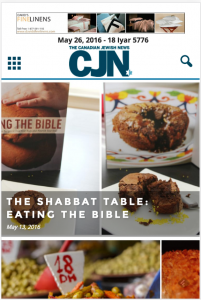 ew CJN website launched last October 2015 and has been fully responsive ever since. It was a huge leap from its former fixed-width design and is now capable of being viewed on both desktop and mobile devices.
There are still some features in development to provide utility such as a recipe bookmarking service, a Jewish business directory and CJN events program. We at Analytical Engine Interactive are delighted to know that they are happy with the website we delivered and would love to see the editorial team grow this site to a responsive, utility-driven, and deeply personal user experience.
http://lopoukhine.ca/wp-content/uploads/2016/05/Screen-Shot-2016-05-26-at-4.21.21-PM-e1464354515844.png
1051
2346
redraph
http://lopoukhine.ca/wp-content/uploads/2016/05/logo-resume-orange-bubbbles.png
redraph
2016-06-08 21:28:24
2016-09-23 20:47:59
Canadian Jewish News digital business re-imagined