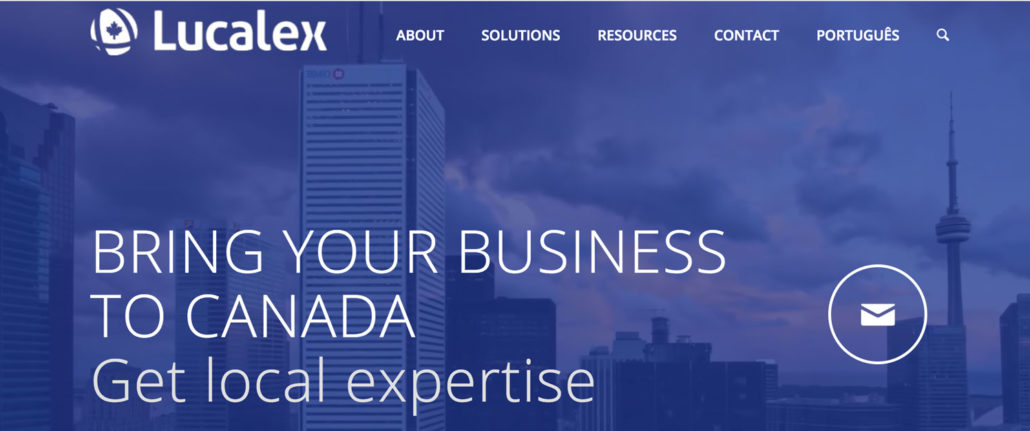 Lucalex aides Brazilian businesses move their operation to Canada by helping them navigating cultural, economic and political differences. Lucalex helps free them up to focus on new client acquisition, revenue generation, technical quality and growth.
From a digital perspective, Lucalex had an outdated site and wanted to entice new businesses to contact the company.
Our process
To understand all the dimensions of Lucalex's issues and opportunities, we:
Interviewed the CEO,
Ran a workshop with the CEO to understand Lucalex's target audience
Analyzed their business documents and existing communications
Conducted a competitive analysis to see how similar organizations position their businesses on-line
Our solution
Communicated through a communications brief, a final report, wireframes, and content drafts, we developed a bilingual, modern, and responsive website, with an interactive feature, geared towards building trust and lead generation through a content-marketing funnel.
Here are the wireframes (homepage) and static content I developed.
Content marketing funnel
To help generate leads, we developed personas of the prospective clients at different engagement levels.
Top of the funnel
At the top of the funnel were Brazilian businesses with a low understanding of why developed markets are different than developing markets and unaware of Canada as viable option over the U.S. as a good place to do business. The businesses were, nevertheless, wanting to expand their business and most likely looking to Florida, but were also considering the European Union.
To capture this group, I developed for the Resources section blog posts:
As well, I developed an article on how customer centric business was the required way to do business in highly competitive developed markets (the client opted not to publish it yet).
These general articles, geared towards Brazilian businesses, were used to position Canada as great place to do business and the customer centric article hinted at how Lucalex's service is required in today's competitive market.
Mid-range in the funnel
The next group had a strategic interest in North America, understood how developed markets were different than developing markets, but need a push to understand why Canada was the best option.
For this group, I developed infographics:
The infographics are only visible by providing your email to Lucalex to help generate leads for future business. Also for this group, an ebook is planned to be used in a similar fashion to take an in-depth focus on why piloting your North-American business in Canada makes sense.
Bottom of the funnel
The bottom of the funnel focused on business understands a developed market economy and is ready to move to Canada, but needs to find the right support.
The general content on the site was designed to attract this target audience, including the interactive feature highlighting lucalex's unique service, quotes from businesses recommending Lucalex, clearly defined services and calls-to-action to contact Lucalex today.
Interactive feature
Using the a combination of a stock photo, minor overlay of graphics, and the theme's image with hotspots feature, I developed an interactive infographic to showcase how Lucalex differentiates itself from its competitors and adds value for firms looking to set up in Canada.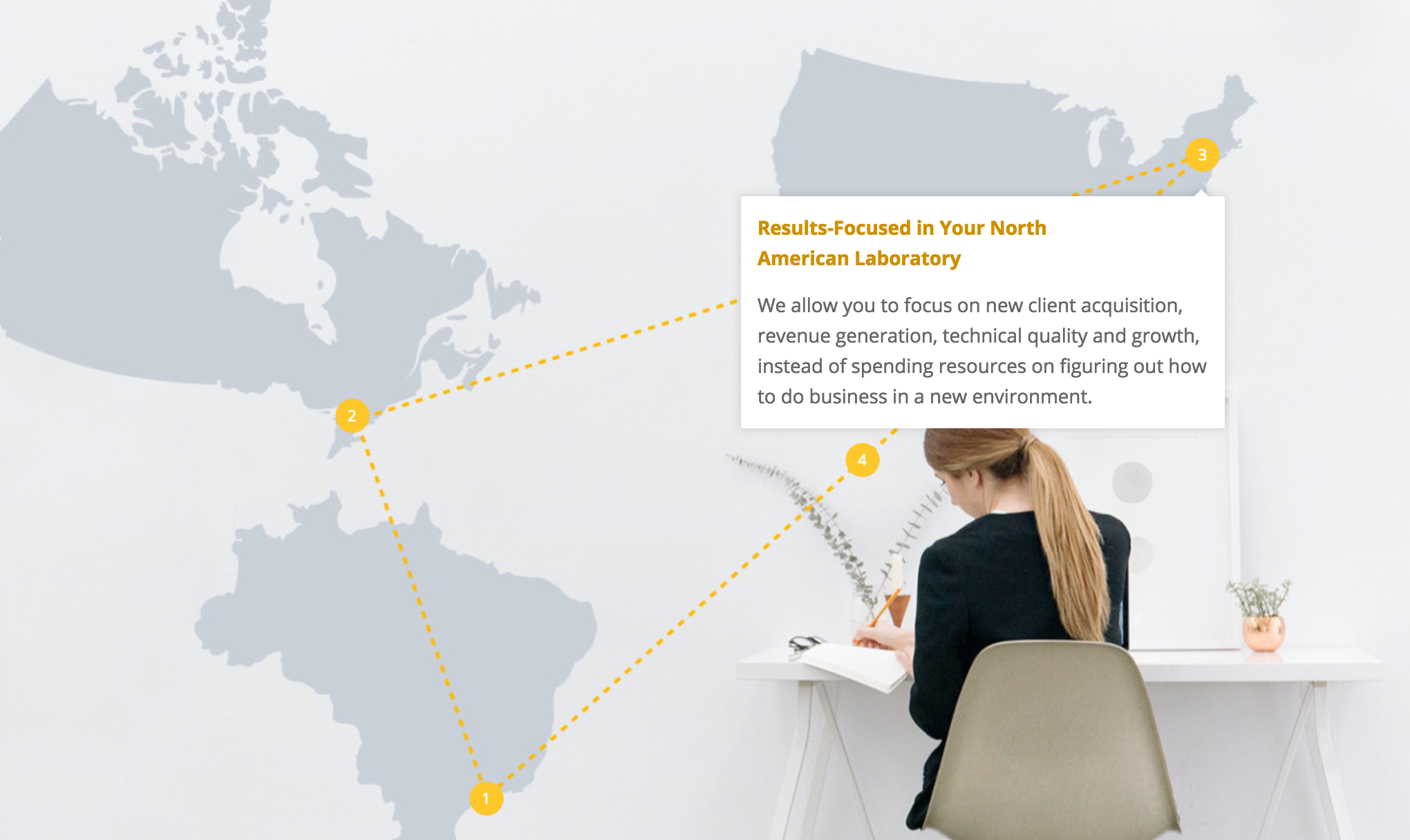 Recommendation quotes
We sought recommendation quotes from businesses who have worked with Lucalex to help build trust with those looking to do the same. In Brazil connections are important, this will help some users take that next step and reach out to Lucalex.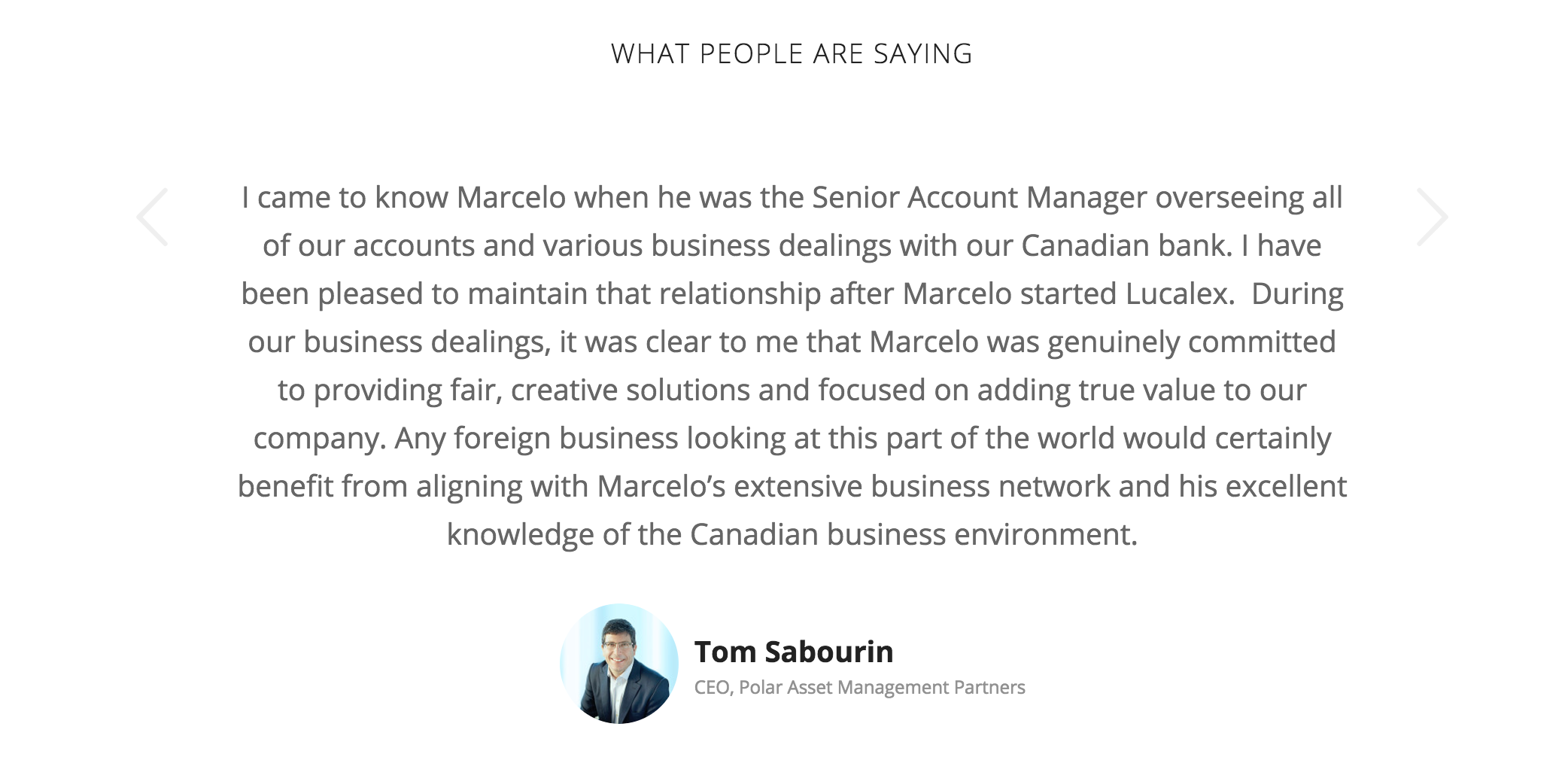 Clearly defined services
We worked with the client to refine and distill their offerings to ensure their users understood what work the company performed.

Result
Lucalex was very happy with their modern, responsive website geared towards generating leads and building trust. The site looks professional and modern, while the content-marketing funnel is tailored to attract Lucalex's target audience.
http://lopoukhine.ca/wp-content/uploads/2016/09/Screen-Shot-2016-09-22-e1474663548716.jpg
626
1496
redraph
http://lopoukhine.ca/wp-content/uploads/2016/05/logo-resume-orange-bubbbles.png
redraph
2016-09-23 20:43:12
2016-11-10 22:09:08
Lucalex capturing new business and building trust